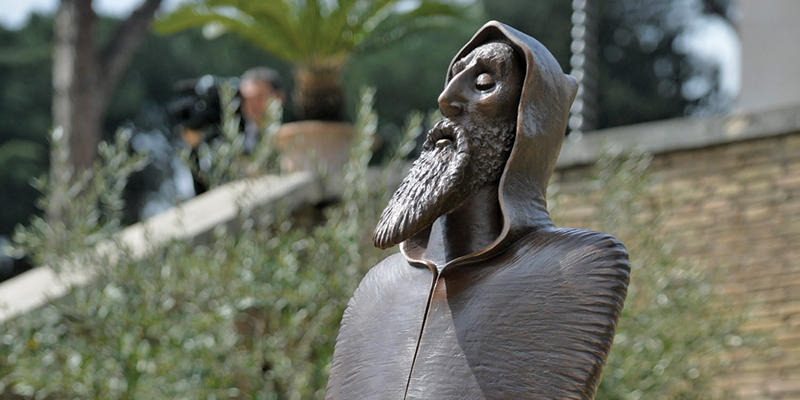 Accept with sweetness almighty Lord my bitter prayers.
Look with pity upon my mournful face.
Dispel, all-bestowing God, my shameful sadness.
Lift, merciful God, my unbearable burden.
For you are glorified by all creation, forever and ever. Amen.
St. Gregory of Narek is widely revered as one of the greatest figures of medieval Armenian religious thought and literature. Born in the city of Narek in about 950 A.D., St. Gregory came from a line of scholars and churchmen.
St. Gregory received his education under the guidance of his father, Bishop Khosrov, author of the earliest commentary on the Divine Liturgy, and from Anania Vartabed, abbot of Narek Monastery. He and his two brothers entered monastic life at an early age, and St. Gregory soon began to excel in music, astronomy, geometry, mathematics, literature, and theology.
He became a priest at the age of 25 and dedicated himself to God. He lived most of his life in the monastery of Narek, where he taught at the monastic school. St. Gregory began his writings with a commentary on the "Song of Songs," which was commissioned by an Armenian prince. Despite his reservations that he was too young for the task, the commentary became famous for its clarity of thought and language and its excellence of theological presentation.
He also wrote a number of famous letters, sharagans, treasures, odes, melodies, and discourses. Many of his prayers are included in the Divine Liturgy celebrated each Sunday in Armenian Churches around the world.
St. Gregory's masterpiece is considered to be his Book of Lamentations. Also known as Narek, it is comprised of 95 prayers, each of which is titled "Conversation with God from the depth of the heart." A central theme is man's separation from God, and his quest to reunite with Him. St. Gregory described the work this way: "Its letters like my body, its message like my soul." He called his book an "encyclopedia of prayer for all nations." It was his hope that it would serve as a guide to prayer for people all over the world. After the advent of movable type, the book was published in Marseille in 1673, and has been translated into at least 30 languages.
St. Gregory of Narek is remembered by the Armenian Church in October of each year.